The Spark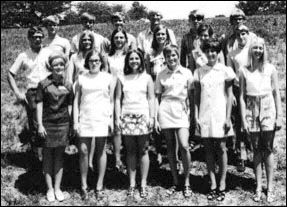 It began with Dr. John Lux, a man who knew how to inspire students. He was an experienced educator at University High School and an Assistant Professor at the University of Nebraska. In 1961, Dr. Lux organized the first Nebraska Leadership Workshop, a humble one-day conference in September to help students become leaders for their schools and communities. In 1962, Dr. Lux moved the conference to the summertime. The event continued smoothly with the help of outside consultants every year. Nationally-known names like Earl Reum, Keith Akins and Mr. Phil visited to train Staff in only two hours with materials of their own. Back then, Staff was just 10 senior (adult) counselors with 10 junior counselors, high school students who'd attended Workshop the year prior. They all helped present one summer's Workshop and that was it. Until three students asked for more in 1973.
A New Path is Blazed
Lilly Coniglio (Lincoln Pius X), Stuart Lehr (Papillion High) and Rick Alloway (Lincoln Southeast) wanted to volunteer beyond one week each summer. They knew young Nebraskans had something special to offer their peers, something even the best outside consultants couldn't teach. In 1976, these three students created a Workshop that was truly Nebraska's own.
Workshop As We Know It
Lilly, Stu and Rick would inspire future Staffers to create Workshop as we know it today. First came the Leadership Guide, then traditions such as the Olympics, Warm Fuzzies and Candles on the Hill, the invention of JAM Workshop and the first ALW Workshop. Nowadays, Summer Leadership Workshop is powered solely by the Volunteer Staff—they carefully plan and carry out every step of Workshop for the development of young leaders like you! Even as names and faces change, this kind of passion has propelled Launch to become one of the premier leadership development organizations in the nation. Even today we continue to search for new ways to expand our services and impact. In 2013, the NASC Volunteer Staff established itself as a non-profit organization, Launch Leadership, in order to reach all high school students with workshops, retreats and other resources.
Where You Come In
Our history would be incomplete without mentioning the delegates who take part in our services. Almost all of our Staffers once attended Workshop or our other services as a delegate. It's time to consider yourself someone capable of accomplishing big things. Who knows? You might make a historic difference in your school, community, family or another local non-profit organization. Whatever your plans, we hope that one result of our services is that you'll see where you can make a difference—and then go for it!