Summer Leadership Workshops
Junior High and Middle School Leadership Workshop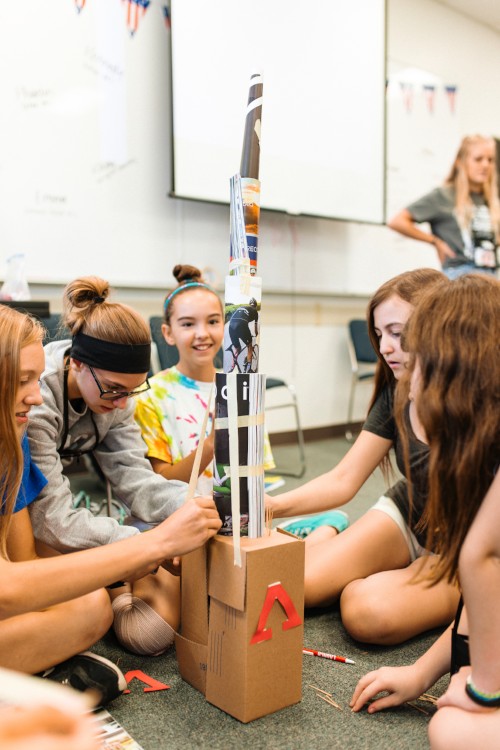 Launch's JAM (Junior high And Middle school) Summer Leadership Workshop is for students entering grades 6-8, who are looking to become involved as student leaders. Students connect with other leaders from all across the state, so they can share ideas, learn what they do in their schools, and work together to develop their own leadership skills.
What We Do
JAM is five days and four nights of leadership immersion. You'll work primarily in small groups called "Co-ops." Here you'll get to know 10-12 other junior high and middle school student leaders. You'll learn from them and from your Launch Volunteer Staff leaders as you navigate hands-on leadership activities and discuss how to apply the lessons to your everyday life. We're not about pretty-sounding leadership theory. Anyone can tell you that time management is important. What we're here to do is help you see how it's important and how you can implement it into your life year-round. Workshop may only be five days, but we make darn sure that what you learn there lasts for the next 360.
Each day, students work together to learn and apply a variety of leadership skills through activities that are led by the Launch Volunteer Staff. The JAM curriculum is built on the PIG paradigm, which stands for Personal Leadership, Interpersonal Leadership and Group Leadership. 
Fun and Games
If you think a leadership workshop doesn't sound like the most fun thing in the world, we hear ya. So you'll have to take our word for it, and take the word of anyone who has ever attended. Each day starts with a morning dance party and continues to ice cream eating contests and four-square tournaments at lunch. We have competitions with marshmallow launchers and participate in Olympics, and we'll cool off by swimming in a pool party. On the last night, there's a huge outdoor dance party. Those are just a few of the ways we cut loose and have fun throughout the week. Wanna know the rest? You'll just have to see it to believe it.
To see the Workshop Experience, watch this video:
Registration Cost
Workshop 2019 costs $350 and includes a nonrefundable $50 deposit.
We offer full and half need-based scholarships. Scholarship information is available on our scholarship page. 
Typically, check-in runs from 12:30-2:30 p.m. on Tuesday and Workshop ends at 1 p.m. on Saturday. Launch does not provide transportation to Workshop, but we can help coordinate travel amongst registered delegates.
More Questions?
Check out our Workshop FAQ page to learn more information about registration, waitlist, transportation and Workshop Week questions. 
Ready to Go?
Good! We can't wait to see you at Workshop!