Frequently Asked Questions About Workshop Registration
We are excited that you are interested in attending Summer Leadership Workshop! Below are some frequently asked questions that may help you plan for and expedite the registration process.
IS WORKSHOP STILL ON WITH COVID-19?
We are deeply committed to the health and well-being of our Staff and our Delegates, and we're monitoring the COVID-19 situation very carefully, day by day. As of now, both our June and July Workshops are still on. We are working on contingency plans in case this has to change, and we'll keep our registered students and their families updated. We really appreciate your patience and support as we work through this as a community.
A note on cancellations/refunds: Until such a time that we have to change our Workshop plans, our cancellations/refunds policy remains the same. We can refund your registration, save for the $50 non-refundable deposit. Any spots cancelled at this time will be given to students on our waitlist. If our plans for Workshop do change, we'll be in touch with an updated cancellations/refunds policy.
---
---
REGISTRATION QUESTIONS
When is Workshop registration open?
Registration opens Friday, January 10, 2020 at 6:00 AM and closes Friday, April 3, 2020 at 11:59 PM.
How much does it cost to attend Workshop?
The regular price of Workshop is $500. We are offering an earlybird price for the first week registration is open (January 10 - January 17, 2020) at $425. We also have special pricing available for student organizations and Nebraska schools sending large groups. Talk to your student organization's advisor or guidance center for more information about registering as a group ahead of registration opening.
If you are applying for a scholarship, the upfront cost to reserve your Workshop spot is $0.
Why did the price of Workshop change?
We raised the price of Workshop for a couple reasons:
1. It costs Launch over $700 to host just one student at Workshop. We have been absorbing the extra cost, and continue to do so, but with the cost to Launch continuing to rise every year, we need to offset our deficit slightly, just to keep up. Our new price is actually still less than what many scholarship recipients pay to attend similar summer offerings in Nebraska!
2. By raising the price, we are also able to give out a greater number of scholarships than ever. Last summer, we gave out a total of 66 Workshop scholarships, roughly 1 for every 22 delegates. This year, we will have 100 scholarships to offer! With the greater capacity of the Doane University campus, we're able to welcome dozens of new scholarship recipients. Our goal is to supply 1 scholarship for every 8 students.
Because this new price may be unattainable for some, we are offering an earlybird price of $425 during the first week Workshop registration is open. We also offer payment plans, and encourage everyone who needs financial help to apply for a scholarship. Even if you don't qualify for a full scholarship, your Workshop spot will be saved and we can work out a payment plan later on.
We hope you understand. If you have more questions about the new Workshop price, please email our executive director, Randy Hawthorne, at randy@launchleadership.org.
How do I choose which program to register for?
Select the program that corresponds with your student's grade for the 2020-2021 school year:
Junior High and Middle School (JAM): For students entering grades 6-8 in the 2020-2021 school year.
Senior High (SLW): For students entering grades 9-12 in the 2020-2021 school year.
Advanced (ALW): For students who are entering 12th grade in the 2020-2021 school year, have previously attended at least one Launch Workshop, and want a more formidable Workshop experience.
What information will I need to complete registration?
To expedite your registration process, make sure you know the following or have this information on hand:
Student's Individualized Education Program (IEP) - if applicable
Student's Prescribed Medication
Medication that should NOT be administered to Student
Student's Allergies
Any additional health concerns that may affect Student's participation in any way, and/or any disability accommodations Launch Leadership should provide during Workshop
Family Physician Name & Phone Number
Health Insurance Provider and Policy Number
Emergency Contact Name and Phone Number (in case a parent/guardian cannot be reached)
If you're applying for a scholarship, we will also need to know:
Household Gross Income on your 2019 taxes (estimate, if needed)
Number of dependents included in your 2019 taxes
Can I begin and pause my registration, or will I need to complete it in one session?
Workshop registration must be completed in one sitting. Once you have begun the process, you will have 30 minutes to fill out the necessary information. Please have the documents listed above ready when you begin registration.
Where do I enter a discount or promo code?
Right here: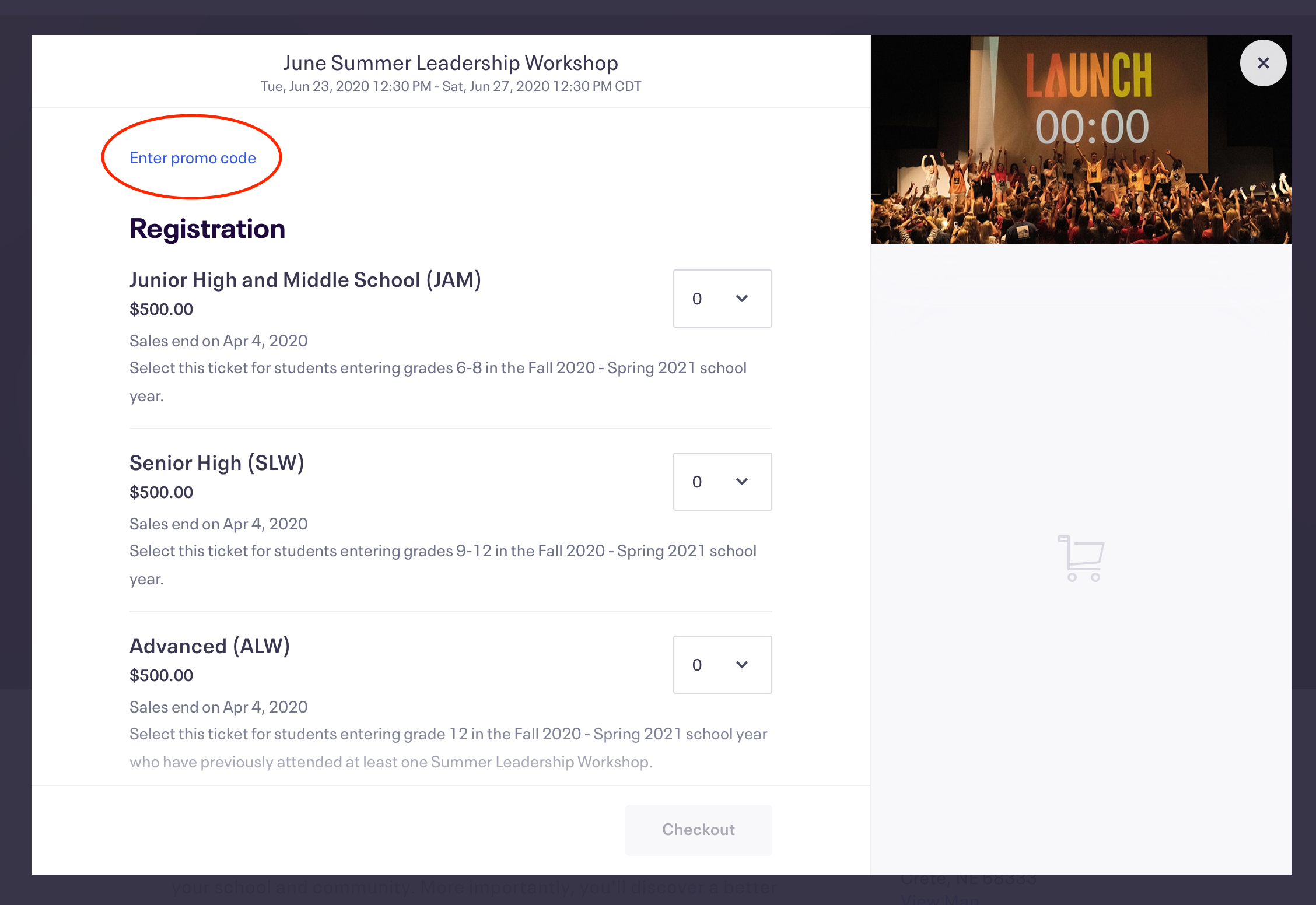 Please note that you will not be able to enter the discount code after moving forward from the above page!
Why does Launch collect demographic information?
We want to provide as diverse a group of students with the Workshop experience as possible. By collecting demographic information, we can tell if we're meeting our goals. We can also share our demographic information with grant programs and potential donors to help us fundraise to expand Workshop even further.
Does my medical and/or demographic information affect my Workshop registration status?
Nope! Workshop spots go on a first come, first served basis. We collect this information upfront simply because it enables us to plan a better Workshop experience for the students we expect to attend.
How quickly will Workshop spots fill?
We can't be totally sure how quickly our programs will fill, but in recent years, we have completely sold out of all Workshop spots in just a few weeks. We advise that you register as early as possible. If your preferred program does fill up, we can place your name on a waitlist to be contacted if/when more spots open up.
How do I know if I've completed the Workshop Registration?
You should receive a confirmation email after registering. If you registered but did not receive a confirmation email, please check your spam folder, then contact our registration team at registration@launchleadership.org. They will be able to check on your registration status.
What if I need to change something that was on my registration form?
No problem! Just email registration@launchleadership.org. We'll get your info updated!
I'm on the waitlist. Now what?
Now we wait. We often get a lot of movement from the waitlist to fully registered the closer we get to Workshop. We recommend keeping the week of Workshop blocked off on your calendar, just in case.
If you do get moved off the waitlist, you will be charged the appropriate amount for the time you originally registered. For example, if you get placed on the waitlist during our early bird registration week (January 10 - 17, 2020), you will pay the early bird amount, $425.
What if I can't pay the registration price at the time of registering?
Please contact our registration team at registration@launchleadership.org to create a payment plan or discuss options.
What is the Launch refund policy?
If you missed the EarlyBird2020 discount (applicable from January 10-17), email registration@launchleadership.org receive a partial refund.
As part of our registration process, a non-refundable $50 deposit is required. If you registered for the June Workshop, you can receive a refund of your payment (minus the $50 non-refundable deposit) until June 3, 2020. If you registered for the July Workshop, you can receive a refund of your payment (minus the $50 non-refundable deposit) until July 1. To cancel a registration, send an email to registration@launchleadership.org.
Can we substitute a friend if my student cannot attend?
We have a substantial waitlist each year for each of our Workshops. If a student can not attend Workshop, we will begin admitting from the waitlist rather than swapping reservation names.
If I registered for the wrong Workshop or program, what should I do?
E-mail us at registration@launchleadership.org as soon as possible so we can switch your registration to the correct Workshop or program.
---
SCHOLARSHIP QUESTIONS
What kinds of scholarships does Launch provide?
All of our scholarships are need-based. They cover either half or the full cost of Workshop.
How do I apply for a scholarship?
If you would like to apply for financial assistance, please select the Need-Based Scholarship Application option during registration and follow the prompts. You will need to enter information regarding household gross income and number of dependents from your most recent taxes, and/or if there are any special circumstances you would like us to know. Once completed, a spot will automatically be reserved for your student. The scholarship form covers every Workshop and you do not need to complete more than one form (or submit payment when applying.)​​​​​​
When will I know if I received a scholarship?
Our registration team will respond to your scholarship request within one week of receiving your application. At that time, we'll let you know if you have received a full scholarship, half scholarship, or do not qualify for a Workshop scholarship.
If you receive a half scholarship or if you do not qualify for a scholarship, we will take this opportunity to discuss payment with you. We can either send you an invoice for the full amount you owe or help you set up a payment plan over several months.
What if I don't receive a scholarship and can't afford to attend Workshop?
Regardless if your student receives a partial or no scholarship, they will have a spot reserved at Workshop. We are happy to help set-up a payment plan. If your student can no longer attend Workshop, let us know and we will open up the spot for someone on our waitlist.
---
MORE QUESTIONS?
Just contact our registration team at registration@launchleadership.org and they'll help you with anything you need.